General Cargo Center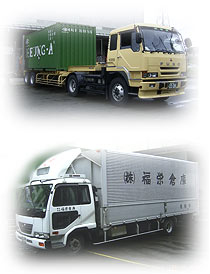 We operate the transport service to all over Japan mainly in Hokuriku, Chukyo, and the Kansai region. Furthermore, we transport 20F & 40F containers to Tsuruga port (Fukui Pref.) and Kanazawa port (Ishikawa Pref.) with our trailer. Imported cargos can be transported from the ports to any designated places.
We also provide moving service inside Fukui, to Hokuriku, Kansai, and the Chukyo region, and to overseas (China, Southeast Asia).